Ready to shake up your fitness routine? Orangetheory Fitness is the perfect way to do it.
Orangetheory Fitness combines everything you love about group fitness classes with the intensity and accountability of personal training. No two workouts are the same, and its classes focus on strength training, high-intensity interval training (HIIT) cardio, and even functional training.
The best part? All classes have an integrated heart rate monitor that allows you to track your progress in real time. It also incentivizes performance, so you can work hard and reach your goals faster.
Whether you're a beginner or a fitness buff, Orangetheory Fitness has something for everyone. Keep reading to learn more about what Orangetheory Fitness classes are like and how they can help you reach your fitness goals.
Understanding the Orangetheory Workout
Orangetheory Fitness is the combination of sustained cardiovascular and strength training elements set to energizing music, creating a fun and addictive workout that keeps your heart rate in a target zone. How it works: you are hooked up to a heart rate monitor that tracks your intensity level throughout your workout and lets you know when you're in the "Orange Zone." Each class is designed for all fitness levels and consists of interval training blocks (i.e. running on the treadmill, rowing on the ergometer, resistance training) with water breaks in between.
The main component of Orangetheory Fitness is keeping your heart rate in the orange zone. This zone is based on 85-100% of your maximum heart rate (MHR), so it will be different for every person depending on their age and fitness level. When you hit this sweet spot during exercise, it's known as EPOC, which stands for Excess Post-exercise Oxygen Consumption – essentially, it's when your body continues to burn calories long after you've finished working out! You'll be burning calories long after the class has ended!
The Orangetheory Heartrate Monitor
Orangetheory Fitness is unlike anything else! It's a unique workout experience that relies on the use of a heart rate monitor to track your progress. The Orangetheory Heartrate Monitor is worn in class and shows your heart rate data in real time, allowing you to have an accurate assessment of how hard you're working.
The Orangetheory Heartrate Monitor is worn around your chest, connecting to the Orangetheory Fitness screens throughout the studio. Your heart rate data is then displayed in real-time on these screens, so that the instructors and staff can watch your progress and offer personalized advice while you work out.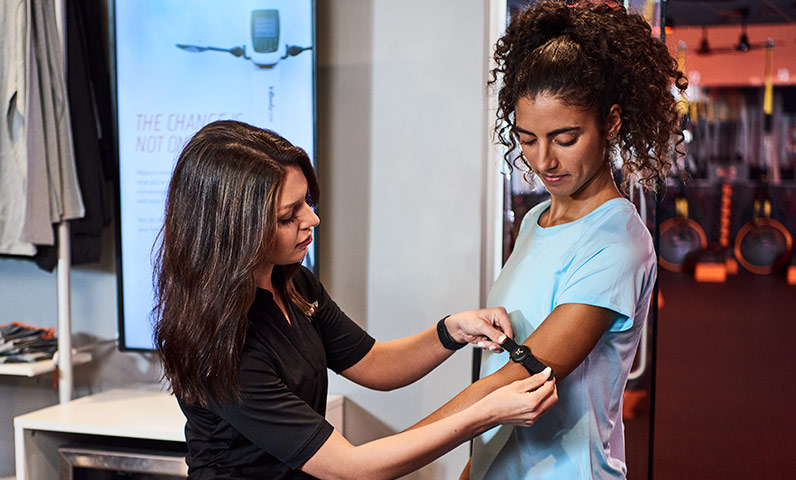 Pin
Thanks to this sophisticated equipment, participants are able to track their progression during each session, making sure they are working as hard as they can while remaining safe. With this data, members can easily adjust their intensity level and keep up with their individual fitness goals.
Not only does the Orangetheory Heartrate Monitor make it easier for members to keep track of their heart rate during classes – it also helps instructors provide better feedback on form and technique. This allows for a more tailored workout routine, helping you get the most out of each session!
Benefits of Regular Orangetheory Fitness Classes
Orangetheory Fitness is a revolutionary workout technique proven to get results. It combines elements of high intensity interval training (HIIT) with cardiovascular and strength training. The 60-minute, group interval workout regimen is designed to keep members motivated by monitoring their heart rate in real time and providing feedback throughout the session.
The benefits of regular Orangetheory classes are numerous. Studies have shown that a single class can burn up to 1,000 calories and increase your metabolism for up to 36 hours after the session is over. During an Orangetheory class, your body is pushed out of its comfort zone by using both anaerobic and aerobic exercise. This encourages increased energy expenditure, which helps you achieve greater results in a shorter amount of time.
Furthermore, with Orangetheory's heart rate-based system you can track your progress and see the improvements from one class to the next. With such an effective system, you're sure to see faster results while also developing improved endurance and muscle tone.
The Different Types of Orangetheory Classes
Orangetheory Fitness offers a variety of classes to cater to different fitness needs and styles. Whether you're just starting out or you're a seasoned athlete, there's something for everyone. Here's an overview of the different classes you can expect to find at OTF:
The Signature Orange 60 Class
The mainstay of OTF's classes, the Orange 60 is a full-body workout that combines cardio and strength training while using heart rate monitors to track progress and maximize results. The class includes interval-based floor exercises like rowing, running, weightlifting and more. The emphasis is on pushing yourself for 60 minutes in order to achieve maximum calorie burn and EPOC (excess post-exercise oxygen consumption).
Power Class
The Power Class is similar to the Orange 60 but with an added focus on high intensity intervals targeting large muscle groups. This class is perfect for those looking for a challenging full-body workout that really drives results.
Performance Series Classes
These classes are specifically designed for athletes looking to increase performance, strength and endurance. They usually involve a mixture of short bursts of cardio mixed with longer periods of strength building exercises – all while monitoring your heart rate throughout.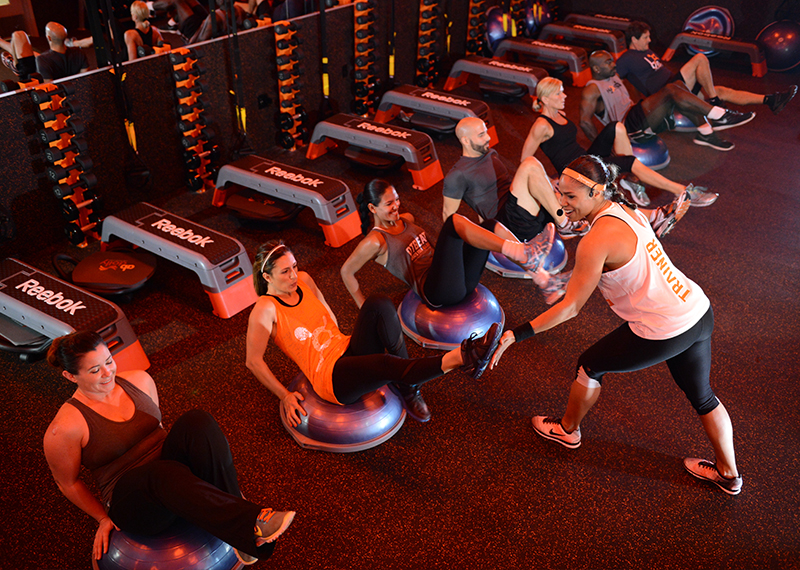 Pin
Preparing for Your First Orangetheory Workout
If you've decided to give Orangetheory a try, there are a few things you should know before you work up a sweat. Here's what to expect on your first Orangetheory workout:
Clothes & Shoes
When it comes to Orangetheory, it's important to wear clothes and shoes that make you feel comfortable and supported. The temperature inside the studio is usually around 75-85 degrees Fahrenheit, so light and breathable clothing is recommended. It's also important to have shoes that can grip the floor and support your feet during jumping exercises.
Towels & Water
You'll want to bring at least one towel with you – one for your face and neck, and another one for the treadmill deck or equipment. You should also bring a water bottle – the studio might provide water fountains, but it's best to have some water on hand for throughout the class.
Sign In & Heart Rate Monitors
Make sure you arrive about 15 minutes before your scheduled class time for registration. Afterward, you'll be strapped with a heart rate monitor so that you can accurately track your performance throughout the workout.
Now that you're familiar with what to expect from your first Orangetheory workout, get ready for an intense yet rewarding workout experience!
What to Bring and Wear to an Orangetheory Class
If you're ready to give Orangetheory Fitness a try, you'll need to come prepared – but don't worry, it's not complicated!
When heading to your Orangetheory class, make sure you have the following:
Comfortable and breathable workout clothes. Think along the lines of a t-shirt and shorts or leggings.
A water bottle that's large enough to last you through the entire hour-long class.
If you choose an indoor bike or rowing workout, you'll also need a pair of specialized athletic shoes designed for those activities – check with your local studio for recommended brands.
Towel – This is essential for soaking up the sweat! The heart rate monitors used in class require skin contact for the most accurate results, so having a towel handy can help make sure your device stays in place during your workout.
Your Orangetheory Fitness instructor will closely monitor your progress with heart rate monitoring technology during each session, so don't forget to wear your wrist monitor!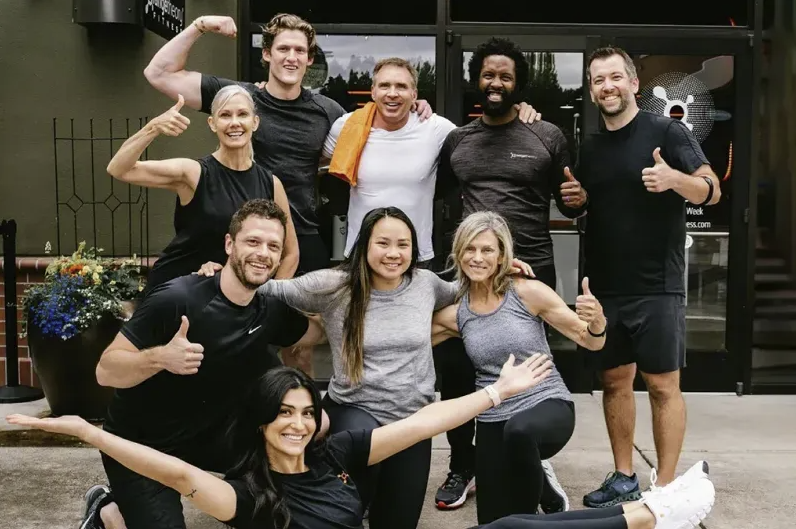 Pin
Getting Started in the Orange Zone
Getting started at Orangetheory is easy and straightforward – all you need to do is sign up for a class online. After that, you're all set!
Before your first class, it's important to understand the basics of the Orangetheory experience. Every class revolves around something called "The Orange Zone" – their proprietary heart rate monitor technology that displays your progress during each workout on a screen in the studio. This can help you to track your progress and measure your success.
Each Orangetheory class contains five components:
Warm-up – designed to get your heart rate up and warm your muscles.
Strength Training – broken down into body weight exercises, free weights and weight machines (depending on the studio).
Cardio – includes options such as rowing machines, running machines, and treadmills to get your heart rate up even higher in order to reach the Orange Zone!
Core Work – using body weight, weights and other equipments such as medicine balls or other tools for strength training in the abdominal area.
Cool Down – Including stretching and breathing exercises to help bring back energy levels and relieve stress from intense workouts.
At Orangetheory, you will be guided through each component with inspirational coaches who are there every step of the way to help motivate you throughout each session – so don't be afraid to give it a try!
What is high-intensity interval training (HIIT)
Orangetheory Fitness classes make use of high-intensity interval training (HIIT) to help you reach your goals quickly and efficiently. HIIT is an effective, efficient way of exercising that alternates short bursts of intense exercise with short periods of recovery, allowing you to burn calories and improve overall fitness.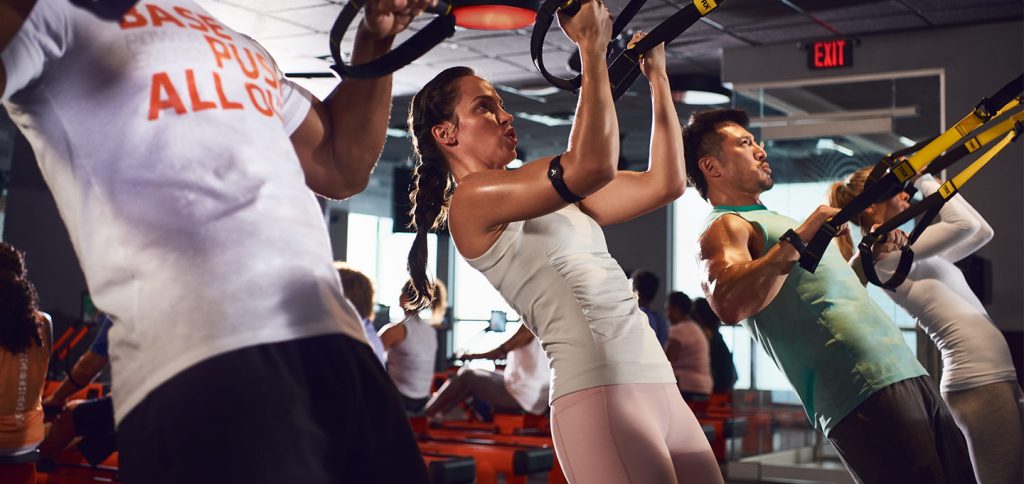 Pin
Benefits of HIIT
HIIT offers a variety of benefits, such as:
Increased calorie-burning potential during and after the workout
Improved cardiovascular fitness
Enhanced muscular endurance and strength
Reduced body fat
Improved mental focus
Increased energy levels
Increased motivation to keep up with a workout program
These benefits – both physical and mental – make HIIT ideal for people who are looking for a comprehensive workout plan in an efficient way.
Is Orangetheory Fitness Good for Fat Loss?
Orangetheory Fitness has become very popular in recent years, with many people using it to achieve their fat loss goals. But, is Orangetheory good for fat loss?
The simple answer is yes, Orangetheory is great for fat loss and can help you reach your goals in a matter of weeks. Here are just some of the reasons why Orangetheory is so effective:
High Intensity Interval Training: Orangetheory uses high intensity interval training (HIIT) to help you burn more calories while also training multiple muscle groups. This type of workout helps increase your metabolism and boosts your calorie burn after the workout is complete, which can lead to more significant fat loss.
Target Zones: The heart rate monitors used in Orangetheory help keep you in targeted heart rate zones that are specifically designed for fat burning. Keeping within these zones for the duration of the workout allows your body to use stored fats as fuel, allowing you to burn more calories as you work out.
Variety: One of the great things about Orangetheory is the variety of workouts available – from cycling to running, weightlifting and more – all designed to give you a full body workout that focuses on fat burning.
By combining a variety of exercises with intense intervals and carefully monitored heart rate zones, Orangetheory can be an effective tool for those looking to maximize their fat loss goals in a short period of time.
Why Orangetheory Might Not Be The Best Fit if You are Looking to Gain Muscle
Orangetheory focuses on cardiovascular health, endurance, and strength with a mix of running, rowing, and bodyweight exercises. While these exercises will certainly provide some muscle-building opportunities, they are not exclusively created for that purpose – so if your goal is to gain muscle rather than improve overall fitness levels, Orangetheory might not be the best choice for you.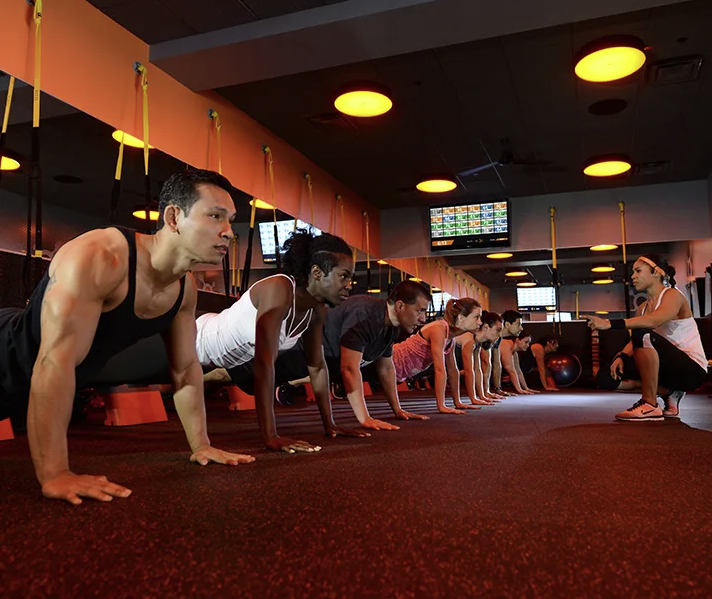 Pin
For those who are just starting their fitness journey and looking for a more comprehensive program that also helps to build muscle mass, there are other options available that might better suit your needs. These include weightlifting classes or programs that combine cardio and weight training in an effective and balanced way.
The main focus of Orangetheory is interval training – a form of exercise that combines short bursts of high-intensity aerobic exercises with periods of rest or lighter activity. This type of workout is ideal for those looking to boost their overall aerobic endurance while still getting an effective workout. However, it may not be the most suitable option if you're specifically looking to build muscle mass or bulk up quickly – other forms of exercise may be more beneficial in this case.
Orangetheory Locations
If you're looking to take part in an Orangetheory Fitness session, you're in luck – there are over 1,500 studios located around the world. Orangetheory has a presence on five continents, with locations in all 50 US states, as well as Canada and Mexico.
Orangetheory also offers virtual classes that can be done at home or on the go. These workouts provide the same amazing benefits of an in-studio class and can be accessed with any internet-enabled device.
Whether you're looking for a studio near you or want to try out a virtual class from anywhere, it's easy to get involved with Orangetheory. Just search for an available location and get ready to sweat!
Here's a list of all Orangetheory locations.
Orangetheory Cost
Orangetheory Fitness is a great way to get fit, but it doesn't come cheap.
The cost of an Orangetheory Fitness membership depends on the frequency of classes you take. The more you attend, the better the deal. To get the most bang for your buck, consider a "Prime" or "Elite" memberships which unlocks access to additional amenities such as discounts on merchandise and personal coaching.
The cost of individual classes varies based on location, but generally ranges from $15-29 per class. You can also purchase packs of 5 to 20 classes at a discounted rate. You can also opt for a monthly unlimited membership if you plan on attending multiple classes per week.
If you're unsure about committing to a full membership, you can always take advantage of their free trial class or pick up one-off sessions in special promotions and events. Orangetheory also offers discounts for students and seniors, so be sure to check with your local studio for all other promotional offers.
What Do Reddit Users Say About Orangetheory?
If you're looking for an unbiased opinion on Orangetheory Fitness, look no further than Reddit. Home to thousands of active fitness enthusiasts, Reddit is a great place to hear a wide range of opinions on the program.
Overall, Orangetheory consistently receives positive reviews. Here are some highlights:
Multiple users have reported that they've seen great results in terms of weight loss and improved cardiovascular health.
People rave about the motivation and support offered by their trainers and fellow members during each workout session.
Many participants find that the music selection helps to keep them motivated throughout their workouts.
Others have mentioned the convenience of the classes, citing that they don't need to worry about planning out their own workouts or figuring out how to use different machines and equipment in the gym setting.
Redditors' positive comments suggest that Orangetheory is an effective program with supportive instructors and empowering classes that help you reach your fitness goals in a way that's enjoyable, motivating and convenient.
Conclusion
In summary, Orangetheory Fitness is an innovative and engaging workout that uses science-backed principles to help you reach your fitness goals. With its unique blend of cardio and strength training, OTFF is an ideal workout for those new to fitness, or for anyone looking for a way to challenge themselves. Whether you're a beginner or a seasoned pro, Orangetheory Fitness is a great option for those who want to get fit and have a good time doing it. So head to your nearest Orangetheory studio and find out what the orange craze is all about!